Last year, me and my girlfriend went to Iceland.
One of the most amazing things was our 5-day hike from Landmannalaugar to Þórsmörk. Originally we wanted to go to Skogar, but had to cancel the last section due to bad weather conditions on the Glacier. This story is about the adventure of this awesome hike!
---
Landmannalaugar to Þórsmörk in 4 days
The GPX track contains only the full route. The individual GPX files for each day including hut information are on my ftp server.
Getting to Landmannalaugar
We learned about the hike from a friend of ours, that did the hike already. It's one of the most famous one and that is for a reason. Already during the bus trip from Reykjavik to Landmannalaugar via Trex (Or Reykjavik Excursions, whatever suits you more) the variety of different Landscapes was breathtaking: During the 3h we went through rich green with lots of sheep, plains like moonscape, gravel deserts and then again green. Almost ever 30 minutes the shape changed completely! Iceland - The land of contrasts.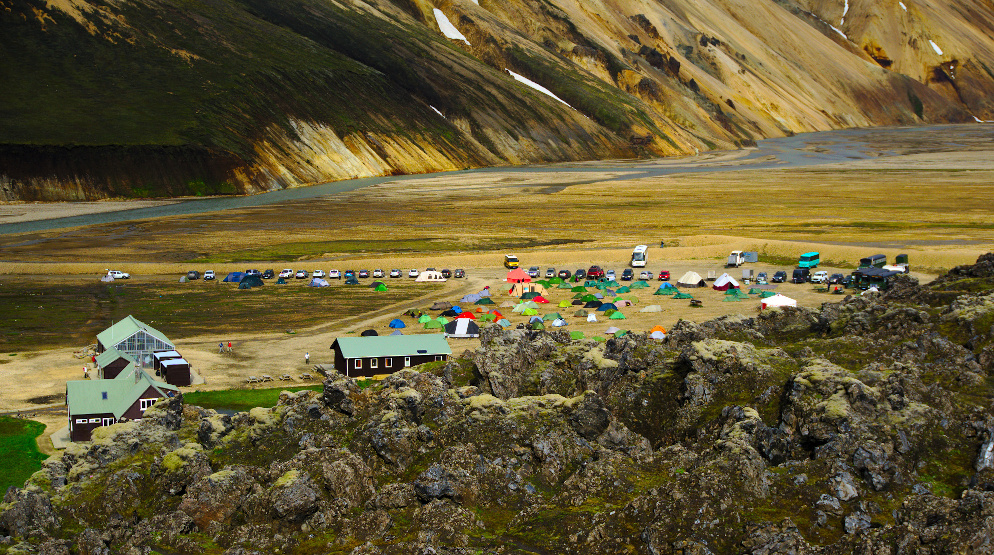 Viewat to camping side in Landmannalaugar
Day 0 - Arrived in Landmannalaugar, build up tent and set for sleeping. Tomorrow it starts!
Landmannalaugar also offers hot springs. Although it's pretty chilly outside, it is worth going there. How wonderful it is to be in a hot tub with an amazing landscape surrounding you.
Don't forget to inform yourself about the weather conditions in the next days and have a look at http://safetravel.is/ for some general safety information about Iceland and hiking in Iceland.
Day 1 - Landmannalaugar to Álftavatn
Getting up early is relative in a season, when the sun doesn't set. Whenever you go up, it feels like you already have missed half of the day. Fortunately it's only a feeling and also it wouldn't matter so much, since it's not getting dark. Still, keep track of your time, since you want to arrive at the designated huts on time. Just to mention: You have to pay at every hut, also for the camping spots. The fee is affordable and you should also go there, since they are in protected sites and the weather can be challenging at some times. Wild camping is in general not allowed, but you will encounter some (Don't do that!). And you will have a rainy day at least once, so keep in mind to take a set of spare clothes and maybe something dry to sleep in as well. Few things are as cosy as sleeping in a nice warm and dry place, while it's nasty weather outside.
Back to the actual hike. Day 1 - You start in the basalt fields near Landmannalaugar and bear South. After some time you will see the mountain chain that you will cross and a lot of exhaust steam.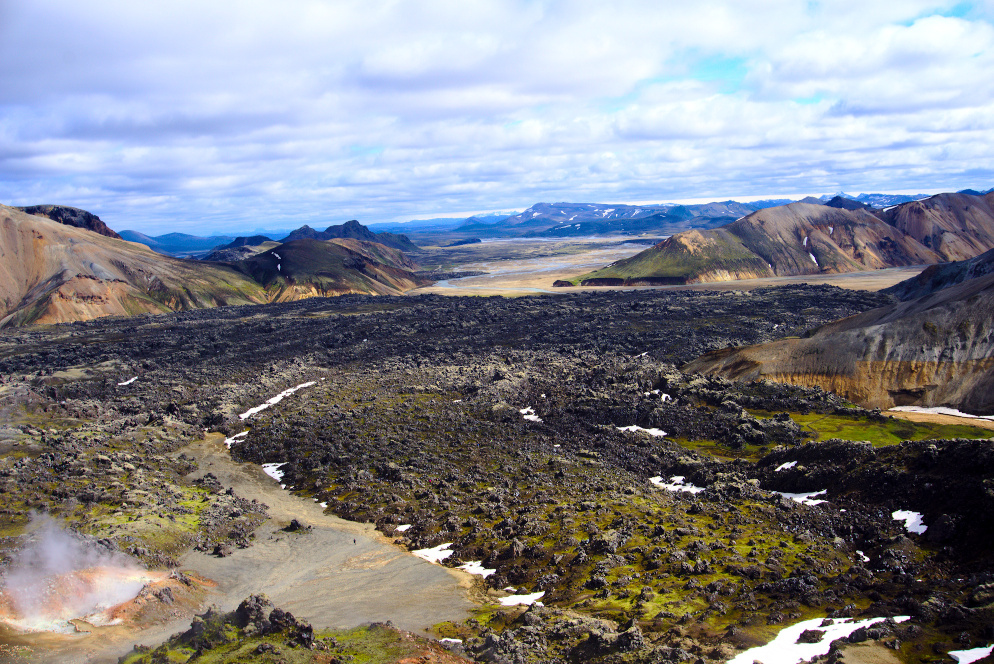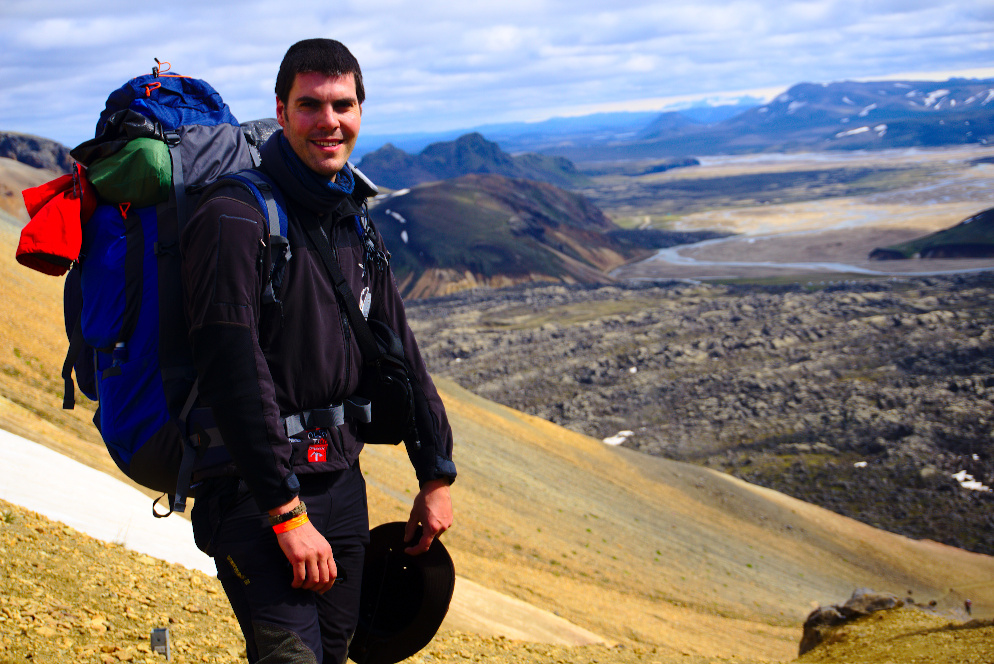 After about an hour you encounter the first volcanic activity (apart from the hot springs in Landmannalaugar) - The smell of sulphur is in the air and we could standing in the middle of volcanic steam coming out of the mountains. It's an amazing feeling to stand there for someone who does not encounter volcanic activity at all. Also a nice spot for the first break, since now the trails goes uphills into snow fields. In fact, most of day 1 we have been hiking through snow fields, so make sure you have adequate shoes with you. Leggings could be of benefit, we have been walking without and it was fine. After half of the day we have arrived at the first hut: Hrafntinnusker hut. Since it was only at lunchtime and we have been still good in shape, we have decided to move on towards Álftavatn.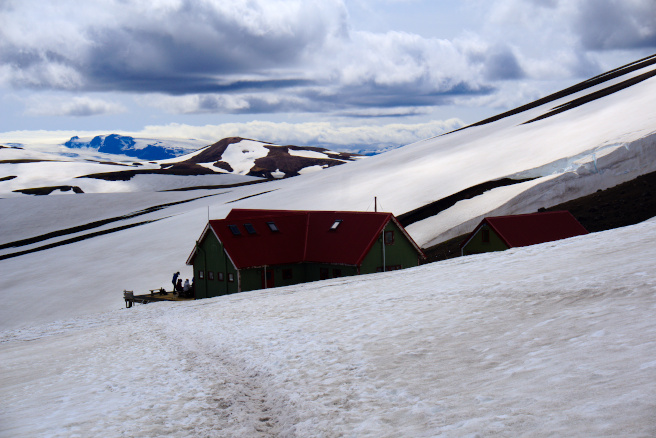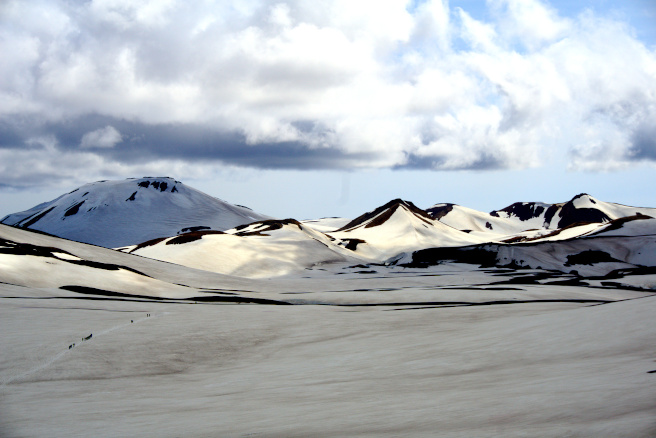 The Hrafntinnusker hut was in the middle of a gigantic snow field. The camping opportunities are as well in the middle of snow or at least quiet snowy. You maybe also want to go on to Álftavatn if you don't like that.
After another couple of hours, quiet hungry and tired we arrived at the Álftavatn hut near the Álftavatn lake. We build up the tent and went for a nice hot shower, provided for a small fee at the hut. Relaxing evening in the tent - Keep in mind, that it will be always windy in Iceland. Make sure you have a suitable tent and build it up correctly, also if it's cold and you are tired.
End of day 1. Good night.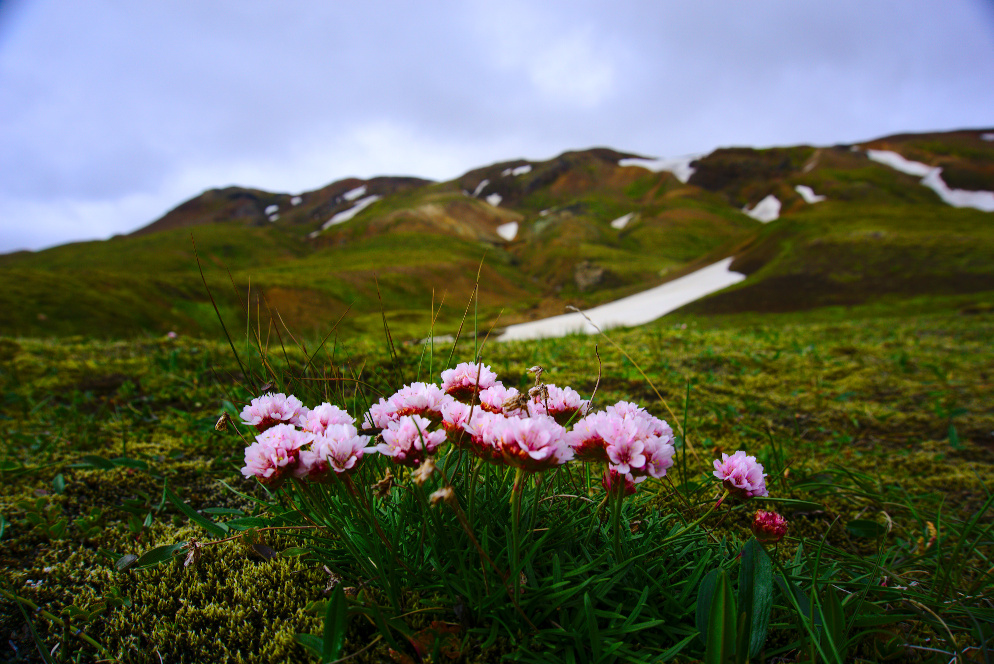 ---
Day 2 - Álftavatn to Botnar
[GPX track for day 02](ftp://feldspaten.org/Travelling/Iceland/Day 02 - Alftavatn to Botnar.gpx)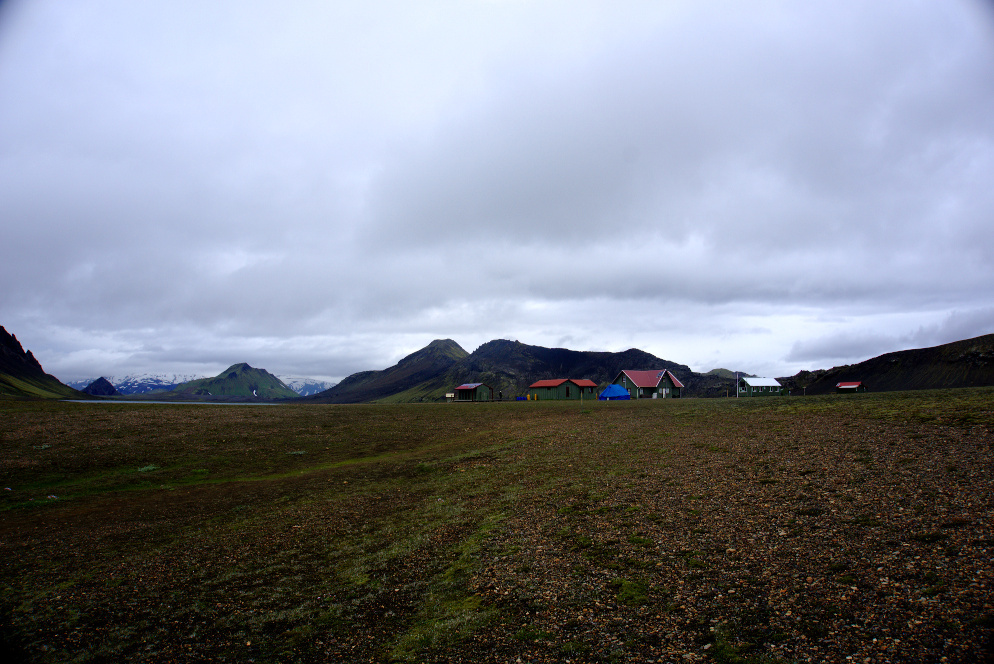 I promised you that there will be at least one rainy day. Well, that day was ours. If you have been going from Landmannalaugar to here, then you might feel the efforts of day 1 already. Make sure you get enough calories and drink enough. A good day of hike starts with a good breakfast: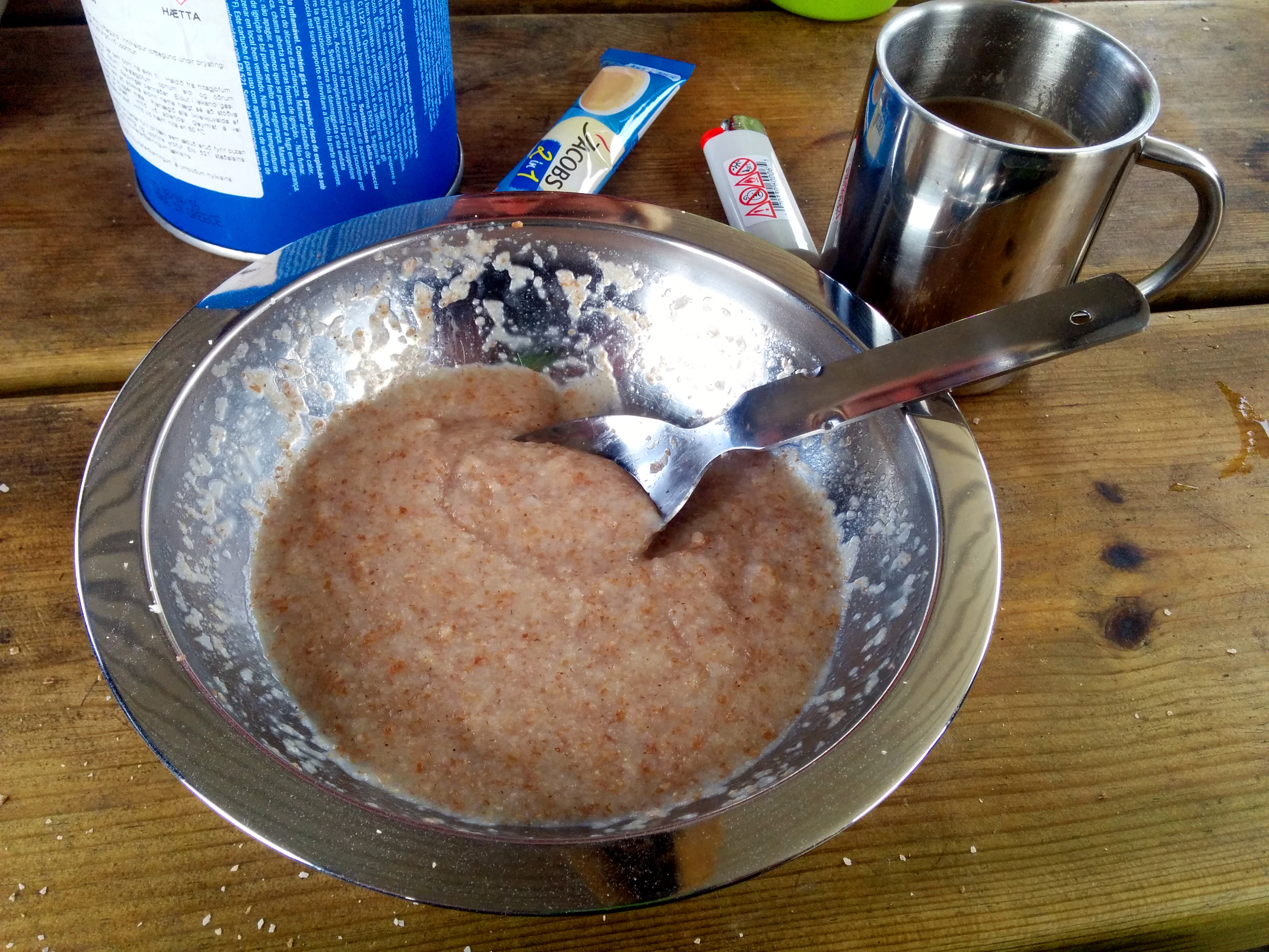 I was positively surprised by the Jacobs 2-in-1 instance coffee packages. They lack the usual powder-like taste of an instant-coffee and are together with creamer and thus a milk-coffee. Nothing for black-coffee drinkers, but they will be anyways better off bringing their Mocca pot.
Anyways. Be prepared for rain. We have been lucky in the morning and could build down the tent and make it rainproof before we left, when it started drizzling. We brought the rain-proof pants but didn't put them on because there were some river crossings coming. And after the crossings also the drizzling stopped. We have been quiet lucky!
Shortly after Álftavatn there comes another hut: Hvanngil hut. The distance between the two huts is only some kilometers, so when planning you can consider them as one station. It really doesn't make sense to plan a day for both huts, unless you want to do some day-hikes, which is a nice thing, because you are in the middle of a very nice region. We didn't do that and still had enough of the beauty of Iceland.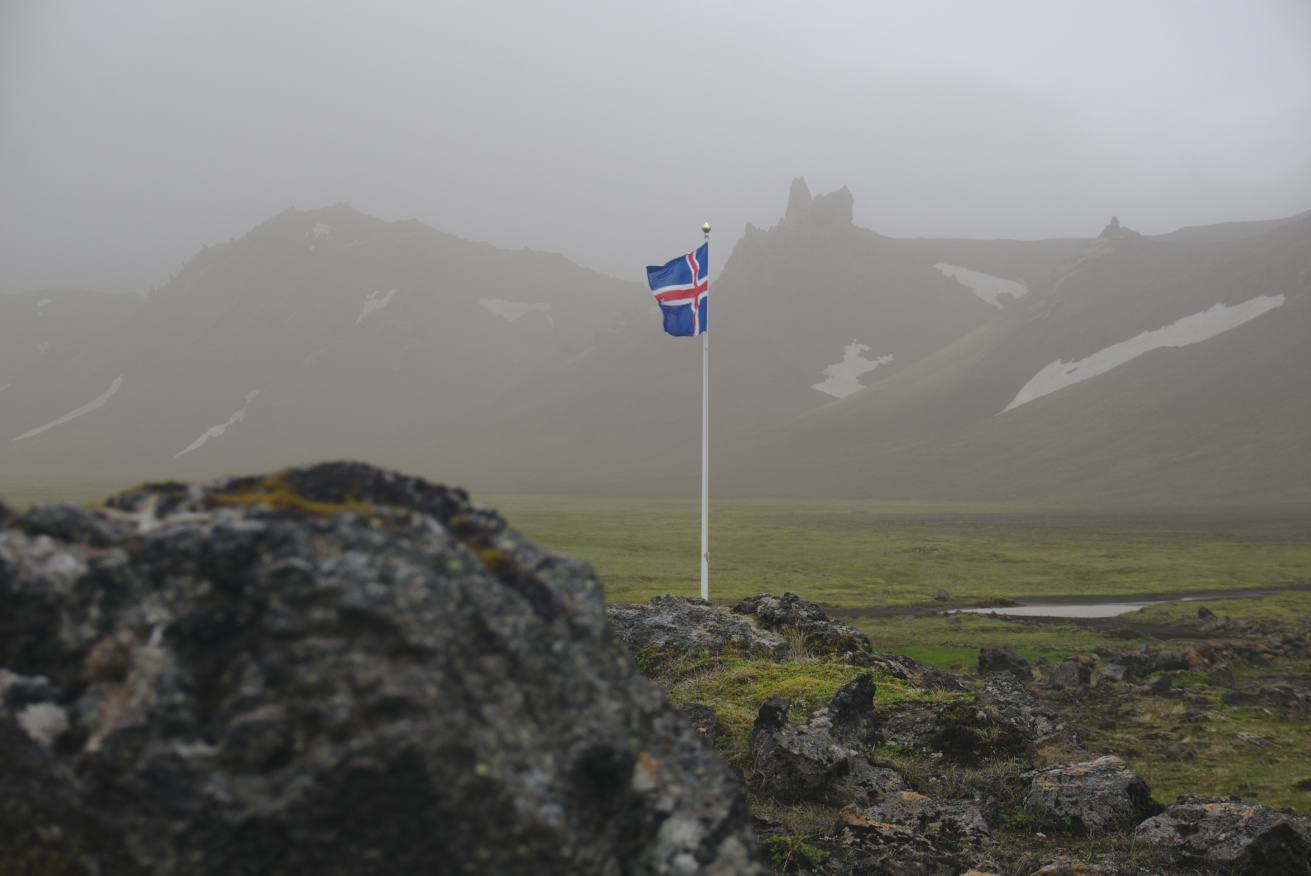 From Alvafatn to Hvanngil hut the landscape was filled with a rich and saturated green. Because of the long days, everythings grows and breeds like mad. You will encounter lots of animals with their young onces - mostly but not exclusively birds. I suppose there are also foxes around, we did not see any of them.
Shortly after the Hvanngil hut, we experience a quiet abrupt landscape change to black volcanic wasteland. Not much grows here, only some small flower-colonies. The constant wind flow is chilly and makes the journey arduous.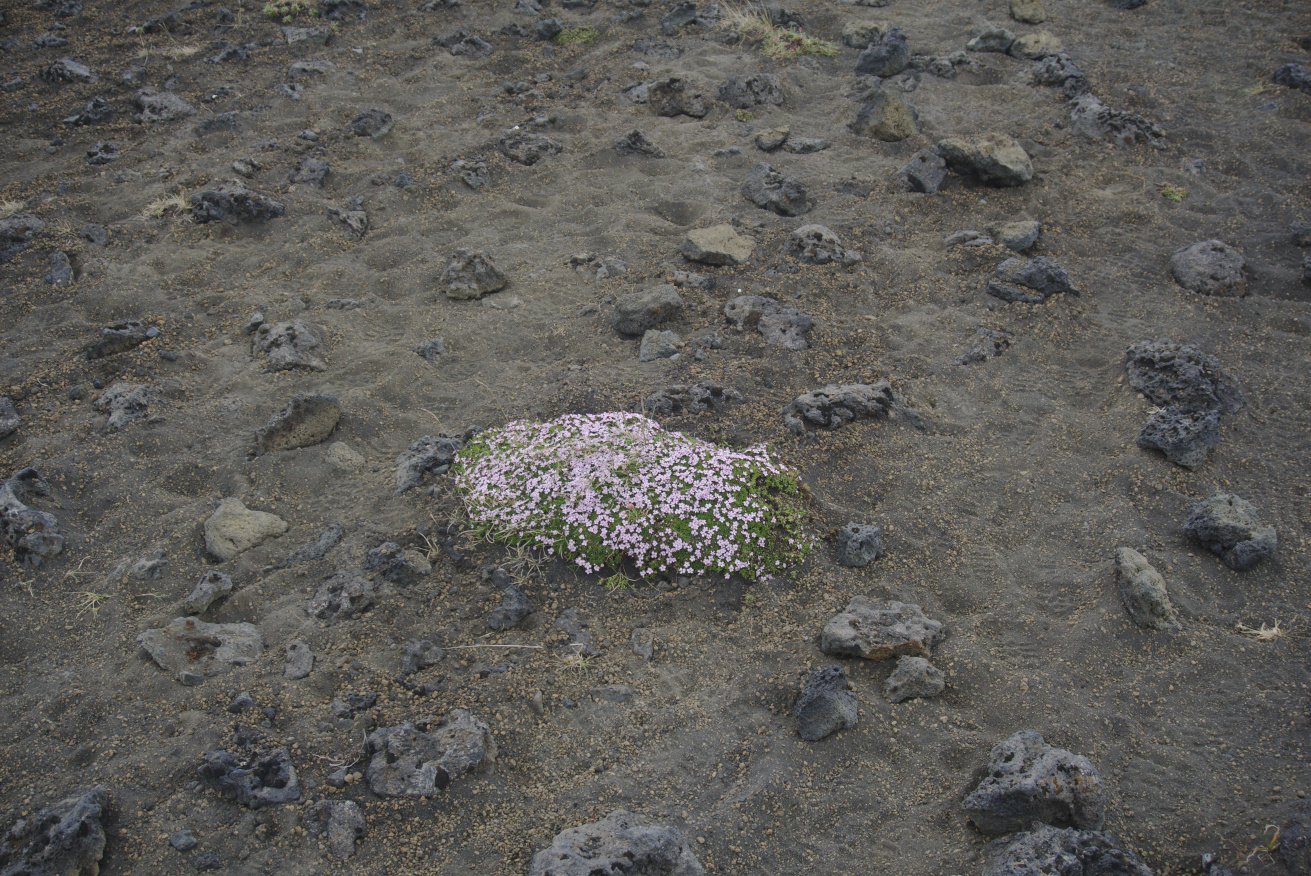 There are two river crossings and a bridge during the day hike - The first river crossing is the deepest one during the whole trip. I marked them in the GPX tracks. On the later you better take off your pants, because also on the most shallow part of the river, it's gonna be knee-deep. Everyone does that, there's absolutely no reason to be shy! Also: I'm not going to post a picture of me, walking through that river (Although I'm not denying such pictures exist. Thank you, my beloved companion … :-)
Anyways. The landscape today is steady. I would not say boring, although the previous days (and the upcoming days) have been astonishing, and this is for sure a less exciting day. I was taking it as a longer walk through a wasteland. It might not be as jawdropping as the last days, but it has it's own charm and gives a contrast. And since it's limited to one day you never get the feeling of monotone landscapes.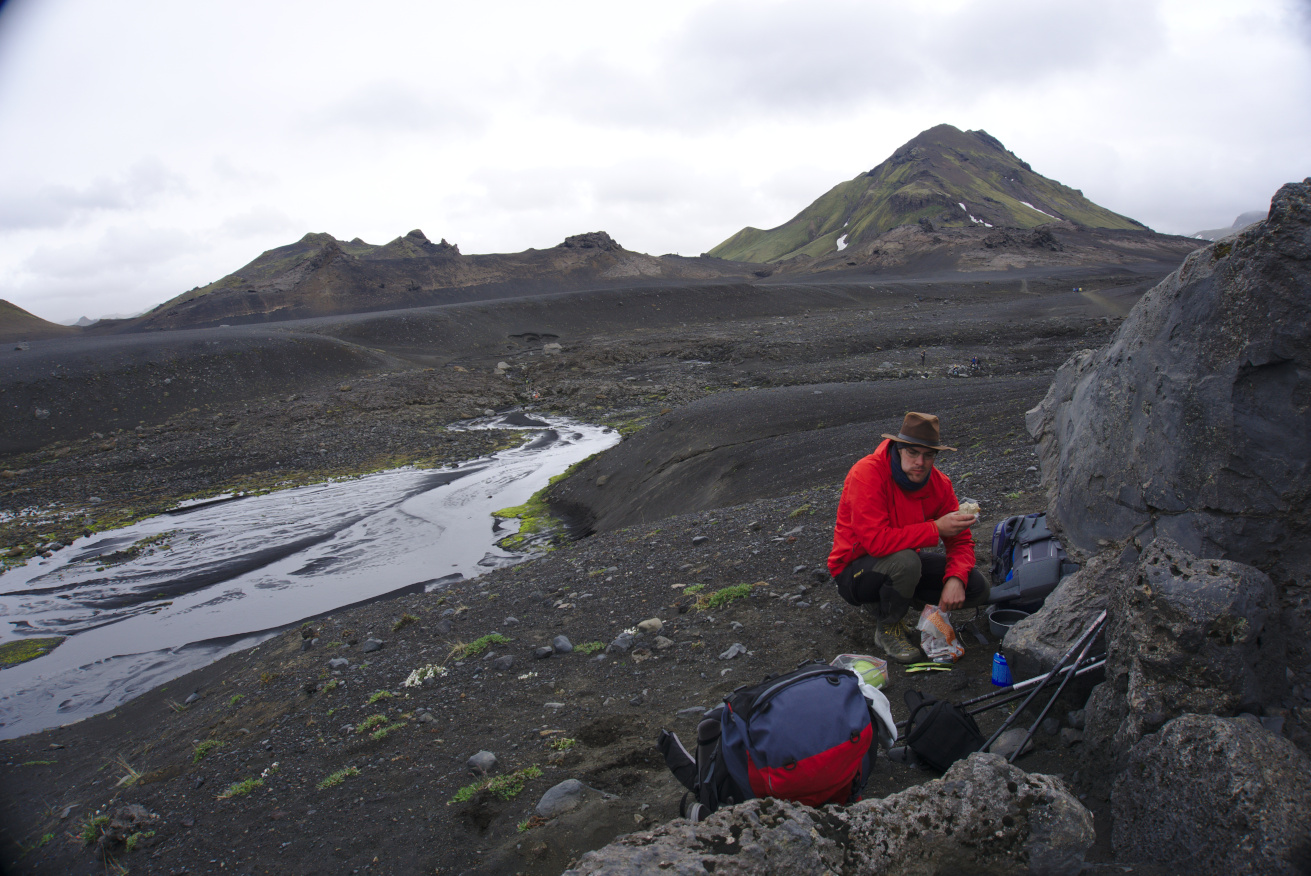 Crossing the vulcanic wasteland makes me hungry!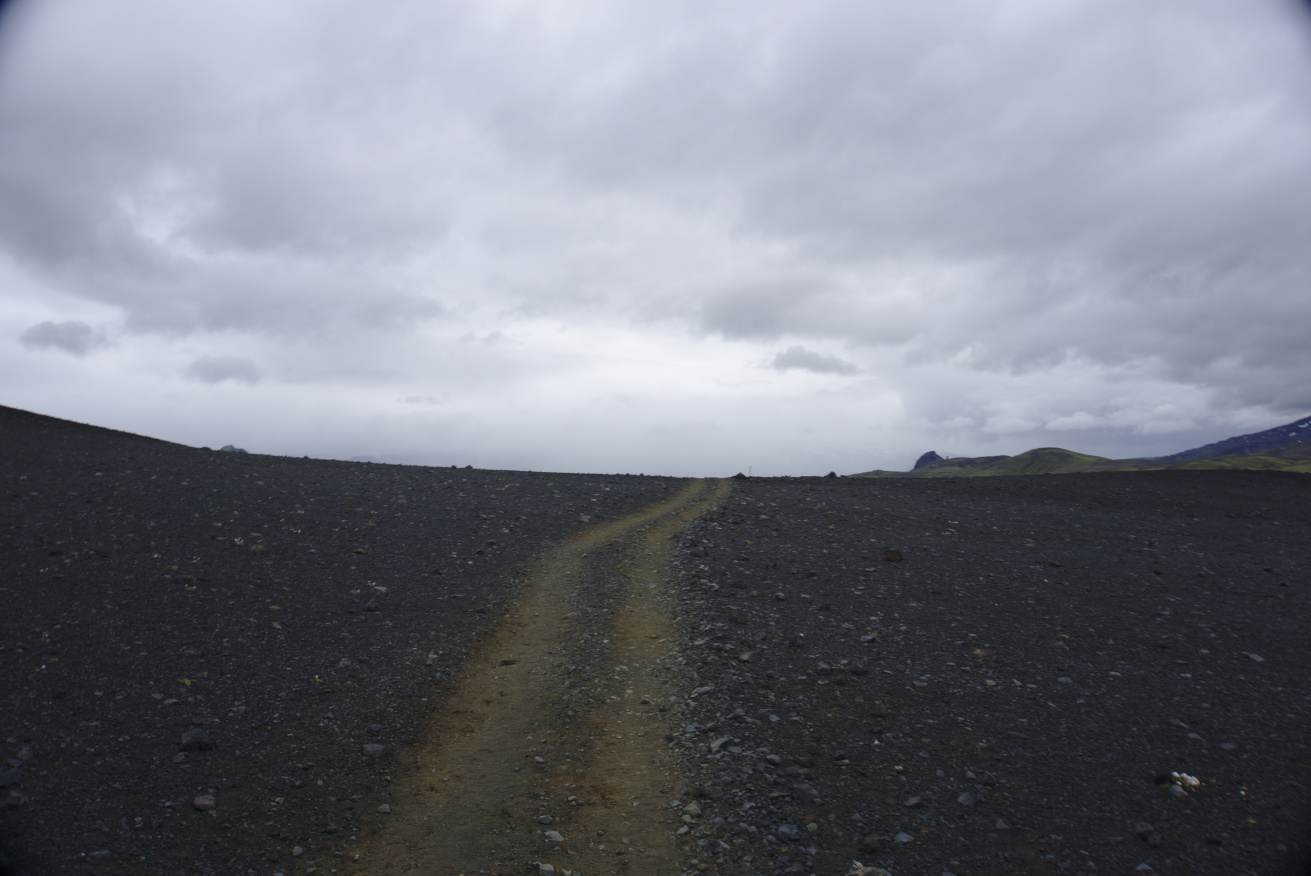 Day two was exhausting. The route is long, and walking through that chilly exposed area demand body and soul. Don't forget to bring enough provisions.
At the end we arrived quiet tired at Emstrur hut.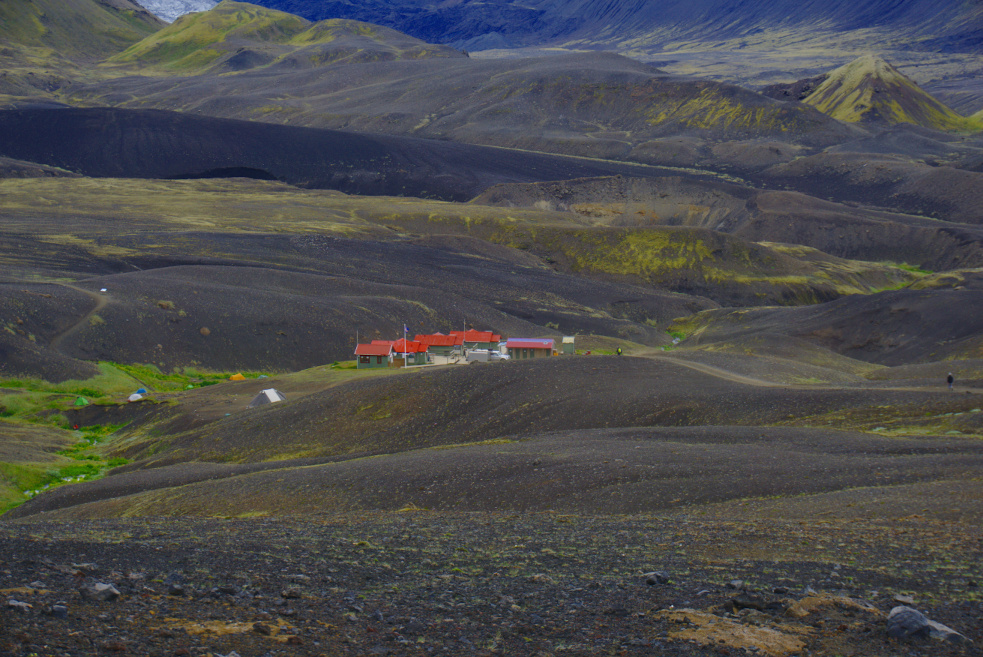 The location is nice and the tends are supposed to be build in a small valley. The night was approaching and with it also a storm and heavy wind gusts. We knew about it and were building fortifications around the tend to give it some wind and rain protection - including a little trench, to avoid heavy rain to come into the tend from below.
The hope for sleep was not fulfilled. The wind was constantly hitting and bowing the tend, and occasional rain surges made the stay inside the tend uncomfortable for the tired wanderer. Much better than outside though, still we barely slept. Luckily the material proved outdoor-proof. After half of the night also the storm was calming down. That was an experience!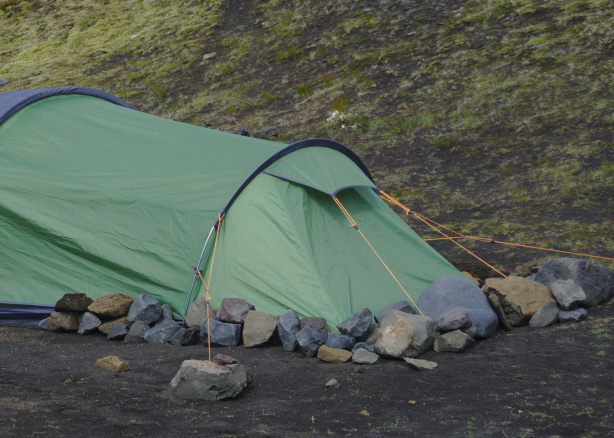 Fortifications around the tend helped us, to stay safe and dry over the night
We have been quiet lucky with the weather. Make sure you have weather-proof material with you!
Day 3 - Botnar to Volcano huts
Good morning world! After the last night, getting up was not that easy. But we need to keep moving, because there should be again rain coming up and we want to build down the tend and get moving, before it starts.
The morning was actually astonishing. Here's what you get to see in the middle of an Icelandic National park: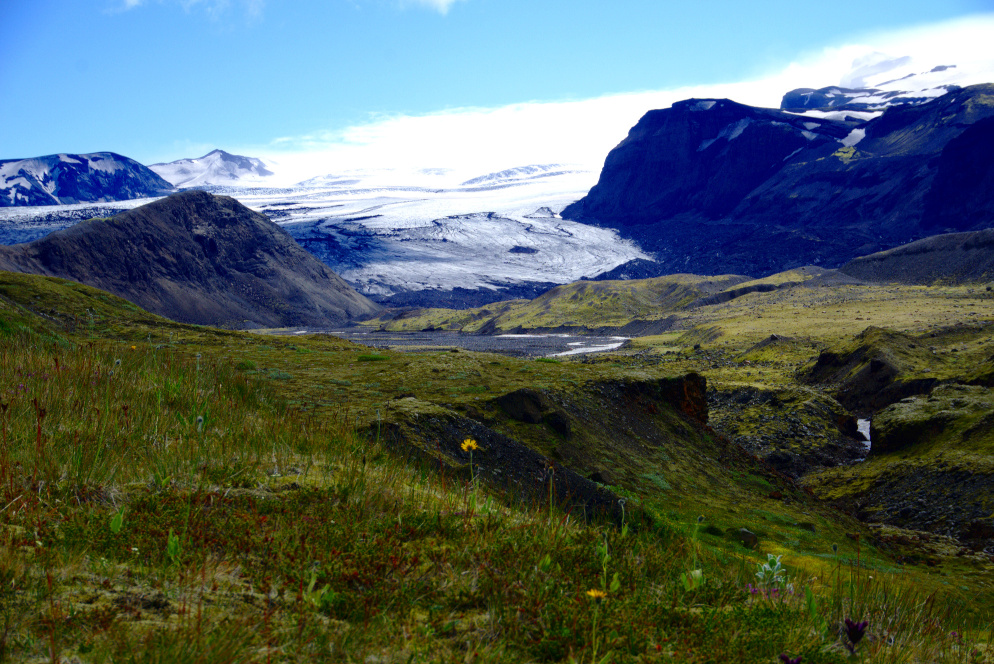 Hello World! Look to the Glacier tongue of the Mýrdalsjökull
Beautiful, isn't it? That is a look to the Mýrdalsjökull glacier, about an hour from Botnar away. But first we need to get breakfast.
On the way there a lot of very nice and friendly people. While breakfasting I run out of sugar for the breakfast of the champions. Luckily we met a very friendly German guy who had some left. We also traded some Crony bars (we had a lot of them!) for some nice spicy and salty sausages (of whom we had too few but he had a lot). Turns out it was his first time really doing such a trip. He was practically living only on those small sausages and potato mash. The dried potato mash is actually one of the best things you can take with you. Weights practically nothing and gives you a nice and warm meal. Just a consideration 😉
After breakfast we went on. The weather was good and although we started to feel the efforts of the last days, hiking was good. Also, the landscape was changing again from the wasteland to a very nice and well-arranged canyon. The canyon is formed by small rivers coming from the glacier, in this case the name is Femri-Emstruá, There is a bridge over the canyon, wish otherwise would be not passable.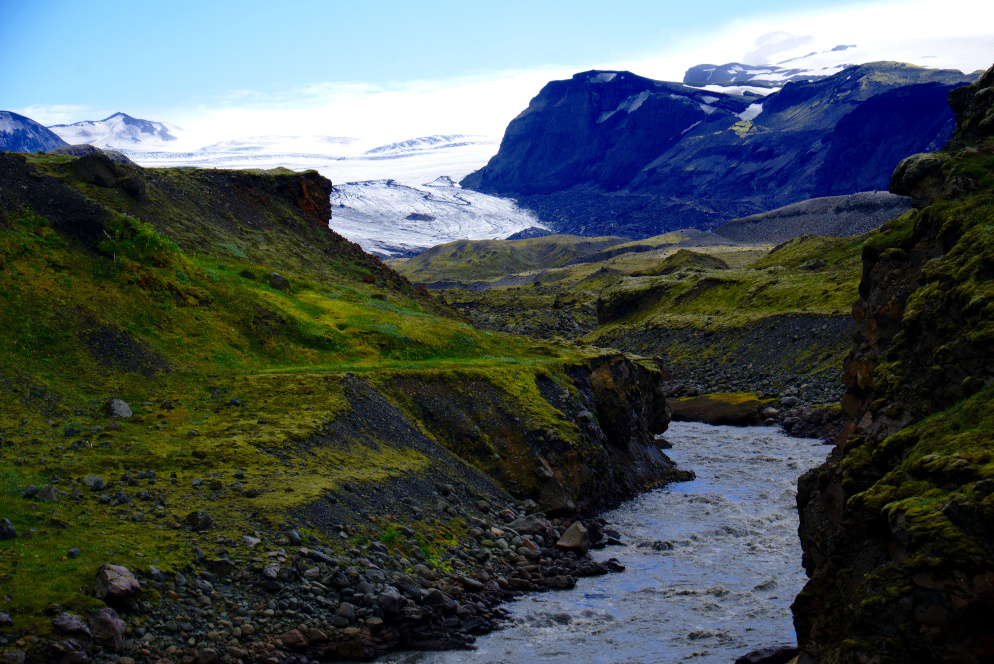 Femri-Emstruá river coming from the glacier Mýrdalsjökull forming a beautiful canyon
I had always the clear water river in mind when I was looking forward to the trip. Although it it different in nature, the beauty of the wild waters is not tainted by the unmet expectation. The smell of the river, the noise of the streams gives me enough to embrace the moment and experience the magic of this landscape. What a beautiful world!
Back to the hike - Always be prepared for rain. The morning was looking good, and you will be more than happy, if you can pack your tend and stuff rainproof before it starts. And since it's Iceland, it will rain (or at least drizzle) at least once per day. If you don't like the weather, just wait for 10 minutes and it will change. In the end you're in a country known for it's contrasts. And the weather is no exception here
This day was an easy one. We know our route and the walking distance was shorter than the last two days. Also it's going most of the time slightly downhills. I guess the other way around should be more demanding. That's ok, maybe the next time!
After another day of hiking and another river crossing we finally arrived at the Volcano huts. In comparison to the last days I must say this accommodation was luxurious: warm showers, a indoor sitting place with fire. After the last days this felt like a huge improvement. Volcano huts is more a hotel than a camping site. They even have a sauna and everywhere small decorations and small houses for the hidden people.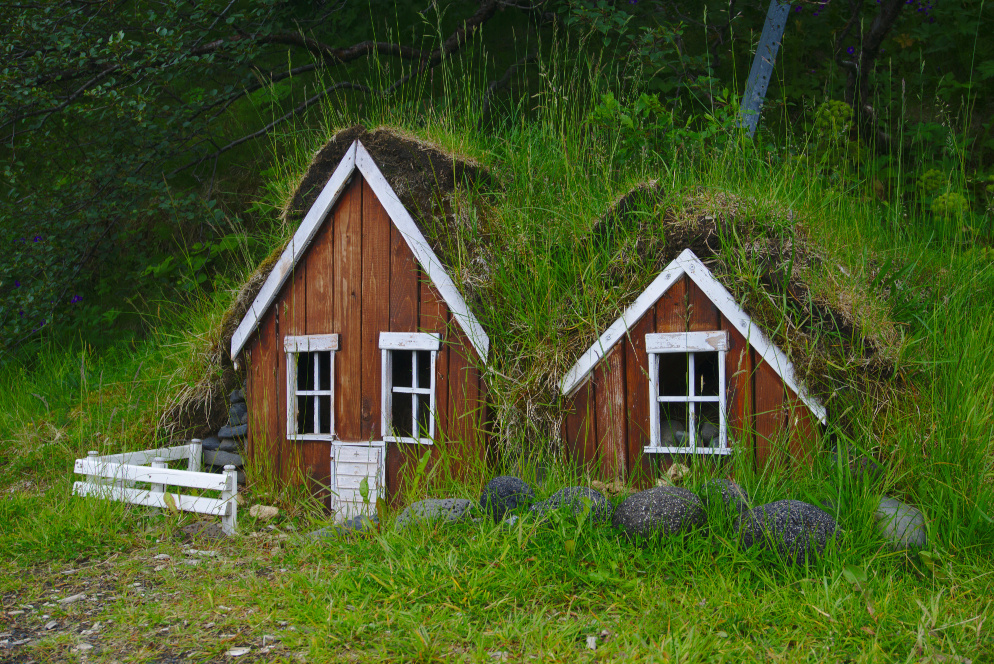 Little house for the hidden people
The hidden people, or Huldufólk are the elves and other mystical creatures living in and between the rocks. You better have a good relationship with them, because there are some rumors around, that they can and will make your live difficult, if you destroy their houses. In 2013 a road construction stopped because elf supporters
End of day 3. Next day we are planning to go over the Fimmvörðuháls, a glacier between the two volcanos Eyjafjallajökull and Mýrdalsjökull. Good night!
Day 4 - Volcano huts to þórsmörk
That was a short track! We went up, had a nice breakfast and checked the weather forecast. It was already looking like rain …
When you are in Iceland, especially when you are hiking, always check the weather since it can change quiet fast. Often with varying weather fronts the forecasts are only limited reliable. Better check every day.
Turns out, this was a good idea. There is rain, fog, snow and wind approaching. Given our tiredness state and because we are not so experienced with glaciers yet, we decided that it's best to skip the last stage.
So we went on the short track from the Volcano huts to þórsmörk and build up our tend there. The pass with the bus is also valid from there, so not a problem at all.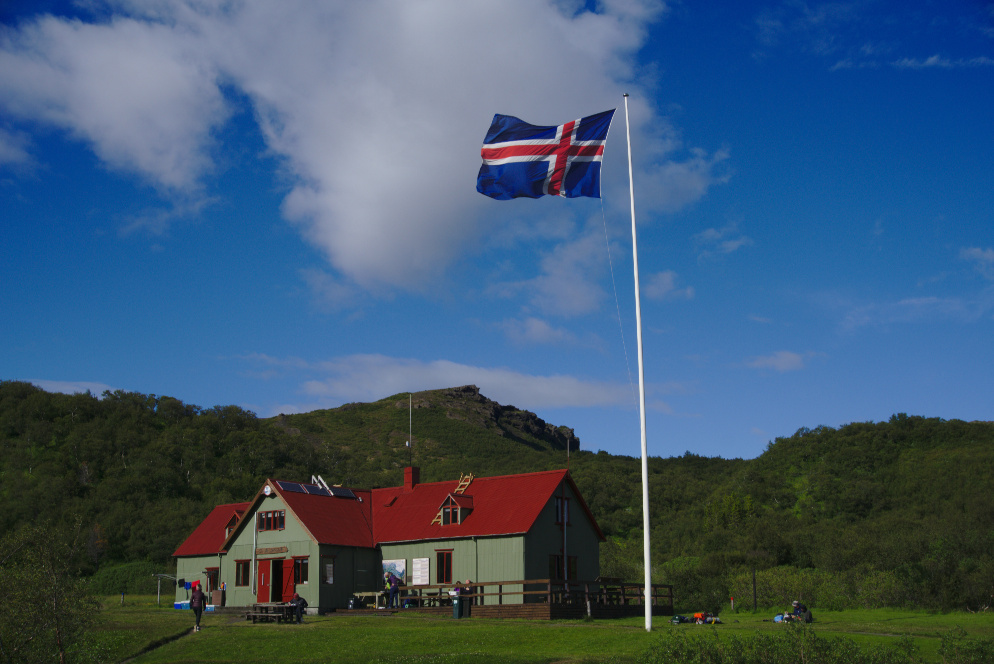 þórsmörk hut at the feet of the Eyjafjallajökull
Because of the bad weather forecast, we decided to skip the last stage, make a relaxing day and go on a day hike the next day. The landscape is amazing, and there are enough tracks for simple day hikes. And a relaxing day in the tend with a book of your choice has also something very much appealing. End of day 4.
Day 5 - Day hikes around þórsmörk
Sleeping a bit longer than usual, feeling kind of sore but still ok. Our last day in the national park - The plan of today is to do a nice day hike. After 3-4 days of carrying around like half of a ton of stuff on your back, today with only a small backpack felt like flying. We went to a nearby canyon, suggested by the locals. Although not on the trail, the landscape was not missing any of it's wonders of the last days. Honestly, here everything is beautiful.
Be prepared that when you leave the trails, walking becomes way more difficult. The rocky landscape and obstacles like rivers make passing challenging. We were under no time pressure, so it was ok, but if you have for whatever reasons whatsoever to leave the regular trails be prepared to be WAAAYYYY slower!
In the end it was an adventurous day, and a good conclusion to an amazing multi-day hike in the South of Iceland. Back to the hut, eating the last packages, and then with the Trex Bus back to Reykjavik.
So, that's it. This is where our journey in the beautiful Landmannalaugar region in Iceland ends, and the next trip starts. The upcoming 9 days we were on a road trip along the ringroad. What an awesome experience! But that's a different story.
For now I conclude with: Iceland is beautiful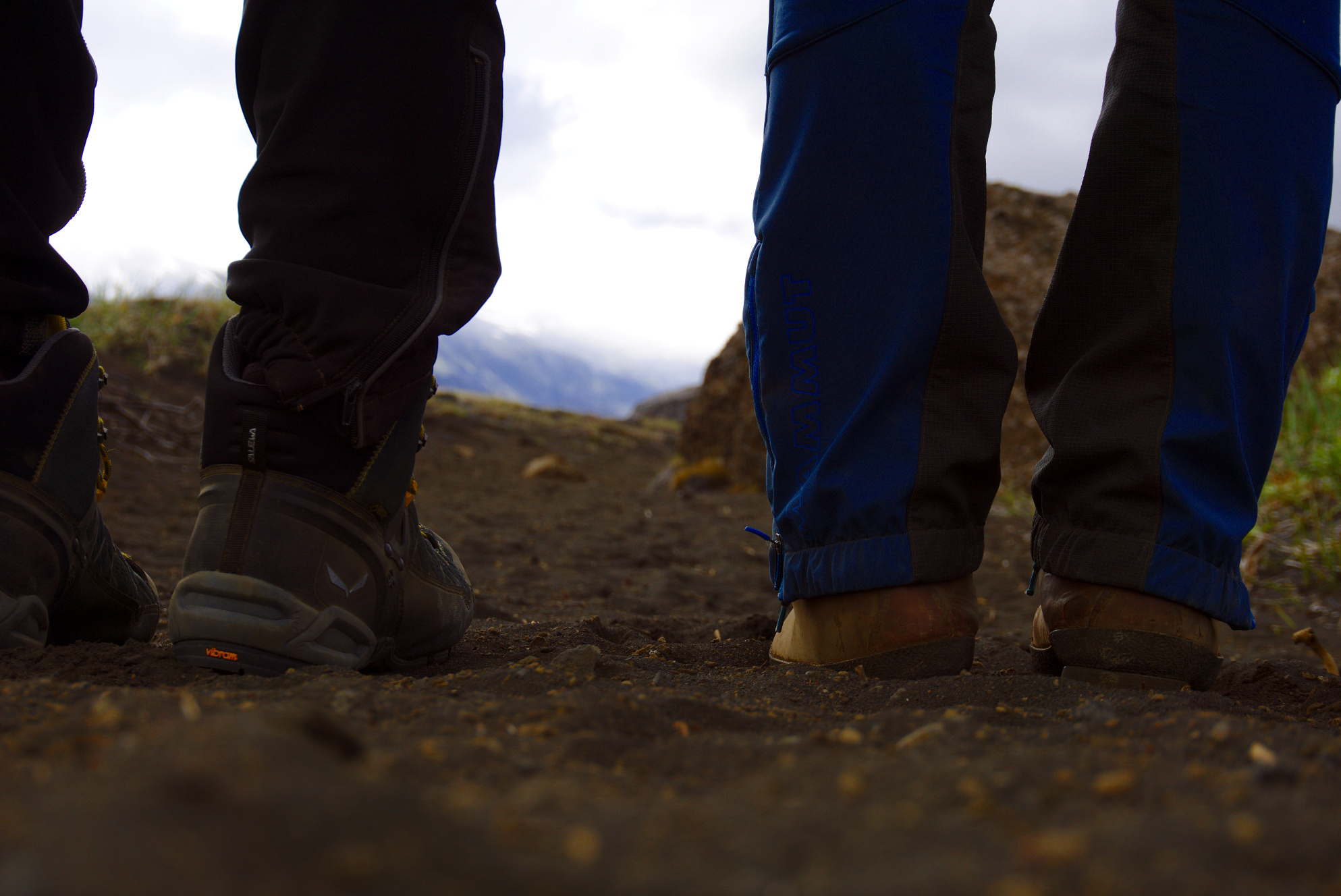 Ready for the next trip!